Kailua-Kona, Hawaii, – May 24, 20012 – Announcing the 2012 Big Island Pride Festival, Sunday July 22nd from 10:00AM – 2:00PM at Kamakahonu Beach/Ahu'ena Heiau (the Luau Grounds of Courtyard at King Kamehameha's Kona Beach Hotel).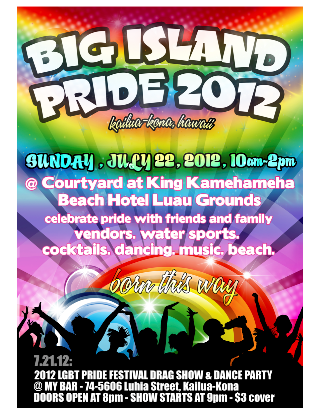 After an absence of several years this island-wide event once again brings together the Big Island of Hawaii's Lesbian, Gay, Bisexual, Transgender, Queer, Intersex and Questioning people and those who love and support them.
"I am thrilled that we have been able to pull this off this year," said event coordinator Blake Howell, "We have some fun activities planned and a fantastic location to gather on Sunday for the big event!" The event, scheduled for the beautiful Luau Grounds at Courtyard at King Kamehameha's Kona Beach Hotel, will feature vendors, a cash bar, music, and beach and water activities. A Saturday Night Drag show and Dance Party kick off the festivities.
Gay Pride is the positive stance against discrimination and violence toward lesbian, gay, bisexual, and transgender (LGBT) people to promote their, increase their visibility as a, build community, and celebrate sexual diversity and. Pride, as opposed to shame and, is the predominant outlook that bolsters most movements throughout the world.
More information and updates on the Big Island Pride Festival can be found at http://BigIslandPride.com and BigIslandPrideFestival on Facebook.
Contact:
Blake Howell
KonaBlake@gmail.com
75-6089 Kaanee Place,
Kailua-Kona, Hawaii,
Ph: 808.989.7070
###