Hawaii Island's Gay Resource Directory
Hawai'i Island abounds with natural wonder. From active volcanoes spewing molten
magma, snow-kissed mountain peaks, to lush tropical rainforest and its white, green and black sand beaches. You can find every major ecosystem on the planet all in one place. Hawai'i Island is an adventure of nature's finest work. The island is actually formed from five individual shield volcanoes that erupted in succession. Of the five volcanoes, one is extinct, one is dormant and three are active to varying degrees. Kilauea for example has been erupting continuously since 1983 and is part of Hawai'i Volcanoes National Park. Mauna Kea could be considered the tallest mountain on the planet if you go from the ocean floor. It towers almost 14,000 feet above sea level and is snow capped most of the year. Mauna Loa is considered the widest volcano on the planet.
Whether you're planning a destination gay wedding, a relaxing intimate couple's retreat, an anniversary celebration, single or group getaway — Hawaii Island has so much to offer in terms of pristine natural beauty.
As the entire state is called Hawaii, many refer to the Island of Hawaii as "The Big Island" to avoid confusing it with the state in general. You'll find that many of the island's accommodations, restaurants, bars, social groups, services and venues are gay owned and operated, agreeable and very accommodating to the LGBT community.
Hilo is the county seat of Hawai'i Island and the town overlooks the gorgeous and pristine Hilo Bay. Hilo in the native language means "to twist" and is home to several LGBT and gay friendly businesses and a registered independent student organization at the University of Hawai'i, Hilo. Having one of the oldest established tourism areas in the Hawaiian Islands, Hilo boasts a bustling business area with plenty for LGBT travelers and tourists to see and do, including several shopping center, bar, restaurants and cafes, a number of movie theaters and of course hotels. Be sure to check out the Hilo Farmers Market for fresh, seasonal fruits, flowers, coffee and local arts and crafts. There's also a tsunami museum, a rainforest zoo and Hilo is home to the Mauna Loa Macadamia Nut Corporation.
Hilo Farmers Market is open year-round every Wednesday and Saturday, "from dawn 'til it's gone," this is one of the better open markets in Hawai'i. And food is only part of the fun. Arrive early for the best selection of made-in-Hawai'i crafts, fresh tropical flowers, aloha wear and handmade jewelry.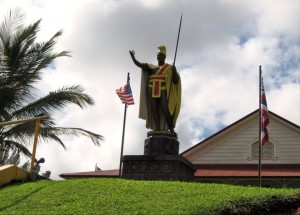 Kailua-Kona established by King Kamehameha I to be his seat of government, the region has undergone a real estate and construction boom fueled by tourism and investment. Kona is a Mecca of sorts, as Kailua-Kona is served by nearby Kona International Airport. Kailua is the start and finish of the annual Ironman World Championship triathlon, the Hawaiian International Billfish Tournament and the annual Kona Coffee Festival. Kona coffee is world renowned for its unique and distinctive, rich flavors and the coffee plants thrive in the lush, local climate.
Historic Kailua Village is no longer the sleepy fishing village it was for Hawaiian royalty. Leave from here on sport fishing charters or stroll down the main road of Ali'i Drive to find a variety of attractions beyond the shops and restaurants. Kailua Pier, the starting and finishing point of the world-famous Ironman World Championship, is a great place to watch the sunset.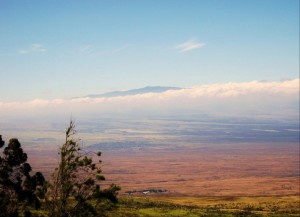 The upland town of Waimea in paniolo (Hawaiian cowboy) country. Saddle up and ride through the wide-open spaces. Several area ranches offer the opportunity to ride the range in a guided tour of the pastures with spectacular views of the coastline and peaks. For the less adventurous, there are storytelling tours by horse-drawn wagons. The ranchers and horses of the Big Island look forward to sharing their unique country with you.
Pu'uhonua O Honaunau National Historic Park, also known as Hawai'i's last "place of refuge," provides a look into early Hawaiian culture. Restored to its early 1700's appearance, step back into time and explore the many archeological sites including Keone'ele Cove, the royal canoe landing, as well as heiau (sacred place of worship), halau (long house of canoes) and fishponds. Beautiful at sunset, this sacred place gives visitors an important glimpse into Hawaiian culture.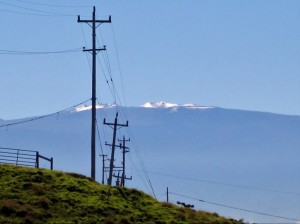 Because of its combination of high altitude, clear air and absence of light, Mauna Kea is home to many international observatories. Take a guided tour or learn about Mauna Kea and its observatories at the Onizuka Center for International Astronomy Visitor Information Center. Bring the family and see why stargazing atop Mauna Kea is such an unforgettable experience.
A trip to Hawai'i Island would not be complete without a visit to Hawai'i Volcanoes National Park. Dramatic, diverse, vast (more than 333,000 acres) and still growing, the park has been designated a International Biosphere Reserve and a UNESCO World Heritage site. Beyond those very significant international honors, the Island's volcanoes are revered and deeply respected as the home of the goddess Pele and of rare and threatened plant and animal species. The Kilauea Visitor Center is a good place to start any adventure in the park. A film introduces the park and rangers offer updates on volcano activity as well as maps. Driving the loop of Crater Rim Drive will take you 11 miles around the lip of the Kilauea Caldera.
In addition to being a top gay destination, The island is also known for its strides with "sustainable tourism". Home to so many natural splendors and enthralling ecosystems, Hawaii is focused on sustainable tourism growth. Dedicated to maintaining a vibrant island experience for years to come, as an LGBT tourist you'll see evidence of this in everything from nature preserves, conservation districts and advanced support for the local economies, ecologies and precious natural resources as you partake of the island experience. There is no place on earth like Hawai'i Island.
Check out our gay Activities page , or read below for additional highlights not to be missed on the Gay-friendly Island of Hawaii include:
Akaka Falls – with a 422 foot drop, the second tallest waterfall on the island.
East Hawaiʻi Cultural Center – regular art exhibits, workshops and classes.
Hawaiʻi Tropical Botanical Garden – a nonprofit garden and nature preserve featuring over 2,000 plant species
Hawaiʻi Volcanoes National Park — comprising the active volcanoes Kīlauea and Mauna Loa
Huliheʻe Palace — a royal palace in Kailua-Kona
ʻImiloa Astronomy Center of Hawaiʻi — an astronomy and cultural education center located in Hilo, HI with a 120-seat planetarium featuring a "fulldome" video projection system
Ka Lae — the southernmost point in the United States (not to be confused with Key West, FL's claim of southernmost point in the continental US!)
Kehena Beach- in the Pahoa district — On the east side of the Big Island there is a large gay community. The neighborhoods of a Kehena Beach Estates, Puna Beach Palisades and Sea View which are all located on the scenic Red Road (Route 137) have large gay populations.
Kehena Beach (This beach is meant for the open minded) is located About 30 minutes south of Hilo. Find it at Highway 137 near mile marker 19. Monday is "gay day" at Kehena Beach, a clothing optional black sand beach. Since black sand is hotter than white sand it is best not to go barefoot.
Lyman House Memorial Museum – a natural history museum in Hilo, HI founded in 1931 in the Lyman family mission house which was originally built in 1838.
Mauna Kea Observatories — an independent collection of astronomical research facilities, including the Onizuka Center for International Astronomy, on the summit of Mauna Kea located in a special zone called the "Astronomy Precinct" — established in 1967 on land protected by the Historical Preservation Act for its significance to Hawaiian culture.
Onizuka Space Center — a museum dedicated to the memory of Challenger astronaut Ellison Onizuka located in Kona's Keahole Airport
Pacific Tsunami Museum — overlooking Hilo Bay, the museum has a mission of tsunami education and is dedicated to those who perished on April 1st 1946.
Pana'ewa Rainforest Zoo — located in an actual rainforest in Hilo, HI, the zoo is home to 60 species of animals including a rare male white Bengal Tiger named Namaste' and the grounds feature more than 40 different species of plants, flowers, and trees.
Pua Mau Place Arboretum and Botanical Garden — established in 1974 by Dr. Virgil Place and friends to specialize in ever-blooming (pua mau) woody plants, the arboretum's mission is to promote awareness of, and conduct research on, the uses of flowering plants in a Hawaiian arid environment for ornamental, agricultural, and bio-regional purposes.
Puʻuhonua o Hōnaunau National Historical Park — this park preserves the site where historically, Hawaiians who broke a kapu (one of the ancient laws) could dodge certain death by escaping to this puʻuhonua (place of refuge).
Rainbow Falls State Park – this 80′ tall by 100′ wide waterfall is the mythological home of the ancient Hawaiian goddess Hina. Rainbow Falls gets its name from the beautifully prismatic mist dancing in mid-air on sunny mornings as the Wailuku River pours over a gorge, rushing past a natural lava cave into a large turquoise colored pool below. The gorge is enveloped in lush tropical foliage and bordered by beautiful wild ginger.
Sadie Seymour Botanical Gardens — the gardens feature cultivated plants arranged in 11 tiers by geographic origin including Hawaii, Australia, New Zealand, Indonesia, Indo-Asia, Africa and Central America. The site contains an educational center, horticultural library and an archaeological site called Kealakowaʻa Heiau or "temple on the way for dragging canoes".
Umauma Falls — a unique series of three waterfalls in close proximity on the Umauma River, the falls are easily viewed from an overlook located on private property at World Botanical Gardens and accessible for a fee.
University of Hawaiʻi at Hilo Botanical Gardens — open daily without a charge, these botanical gardens contain one of Hawaiʻi's best cycad collections, palm trees and a nearly complete collection of Hawaiian Pritchardia trees including the endangered loulu.
Waipiʻo Valley — this breathtaking valley located in the Hamakua District was the historic capital and permanent residence of many early Hawaiian kings up until the time of King ʻUmi. "Waipiʻo" means "curved water" in the Hawaiian language. Several large waterfalls feed the river which flows out of the valley to the ocean and is the location of the final scene from the 1995 sci-fi film Waterworld.
Wao Kele o Puna — Hawaii's largest remaining lowland wet forest is located about 15 miles south of Hilo along the East Rift Zone of Kīlauea volcano and lava from Kīlauea continues to flow onto forest land here. The name "Wao Kele o Puna" means "the upland rainforest of Puna". Some believe the area is the home of the fire goddess Pele.