Discover Gay Waikiki & the Oahu Gay Scene
Sporting several gay bars, restaurants and TAG-approved, LGBT-friendly hotels, gay Waikiki is the place to be! The Oahu gay scene is primarily centered in Honolulu and the Waikiki neighborhood of Honolulu is a popular tourist destination for LGBT travel and straight tourists alike. Densely populated with hotels, resorts and world-famous Waikiki Beach, you'll find plenty of "family" and families in Waikiki, Honolulu, Oahu, Hawaii.
Be sure to check out Queen's Surf Beach, by far the most popular gay beach in Hawaii! This relatively secluded stretch of sand has little-to-no hotels facing the beach which makes it popular as a gay beach in Hawaii. A preferred spot with gay men, you'll certainly find lesbians and even a few straight sun worshippers here. The area surrounding Queen's Surf Beach is so densely populated that there's no nudity allowed and no cruising, but it's a great place to meet, mingle and set up cocktail dates at any of the gay Waikiki bars.
Find additional Oahu gay resources, activities, nightlife and gay and lesbian wedding information here.
Coconut Waikiki Hotel
A Joie De Vivre Hotel
450 Lewers Street
Honolulu, HI 96815
808-928-8828
See Specials
www.CoconutWaikikiHotel.com
The 81-room Coconut Waikiki Hotel offers quests a colorful, contemporary twist on classic Waikiki style with an art deco-inspired design.
4/18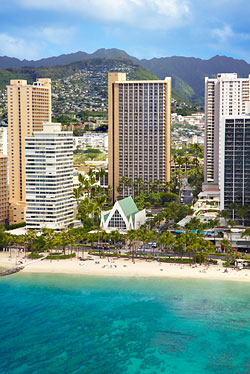 Hilton Waikiki Beach
2500 Kuhio Avenue
Waikiki Beach, HI 96815
808-922-0811
www.HiltonWaikikiBeach.com
Contemporary boutique style hotel. Steps from Waikiki Beach.
4/17
Hotel Renew
129 Paokalani Avenue
Honolulu, HI 96815
808-687-7700
www.HotelRenew.com
Oahu's First Designer Boutique Hotel-Located Just Steps from Waikiki Beach and World-Class Shopping and Dining. Ask about our LGBT Honeymoon Package.
2/15
Hyatt Place Waikiki
175 Paoakalani Ave.
Honolulu, HI 96815
808-922-3861
www.HyattPlaceWaikikiBeach.com
Located on the Diamond Head end of Waikiki, our renovated and spacious hotel is only steps from the beach.
6/24n
Sheraton Waikiki
Kelly Sanders
2255 Kalakaua Ave
Honolulu, HI 96815
808-931-8301
www.Sheraton-Waikiki.com
A modern monument to traditional Hawaiian hospitality. Perfect for couples in search of romance, the ultimate Hawaiian Wedding, or weary travelers seeking a rejuvenating escape.
8/19
Shoreline Hotel Waikiki
Formerly known as the Seaside Hotel Waikiki
342 Seaside Avenue
Honolulu, HI 96815
808-931-2444
See Specials
www.ShorelineHotelWaikiki.com
Influenced by the local spirit & nature of Honolulu. This new hotel offers an experience that is inviting, intriguing, fresh & relaxing, where simplicity and practicality are key.
4/18