All the services needed for that special day:
BARTENDING SERVICES BEAUTY CAKES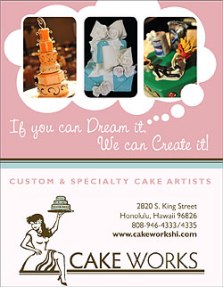 Cake Works
2820 S. King Street
Honolulu, HI 96826
808-946-4333
808-946-4335
www.CakeWorksHI.com
If you can dream it we can create it!
4/19
CATERING CEREMONY & RECEPTION SITES DJs/ENTERTAINMENT EVENT PLANNERS EVENT RENTALS FASHIONS/ATTIRE FLORISTS INVITATIONS JEWELERS LEGAL SERVICES LIGHTING & DECOR OFFICIANTS
GayHawaiiWeddings.net
Rev. Toni Baran
Honolulu, HI
808-383-0099
www.GayHawaiiWeddings.net
Bless you for bringing more love to our world.
6/22n
PHOTOGRAPHY TRANSPORTATION TRAVEL