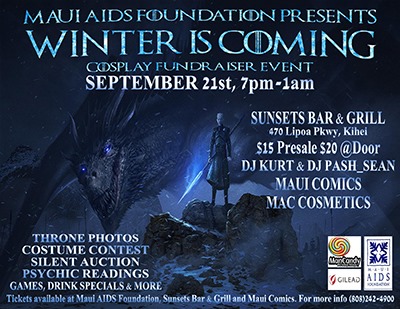 Wailuku, HI (July 22, 2019) — Maui AIDS Foundation will host a "Winter Is Coming" cosplay fundraiser event on Saturday, September 21 at Sunsets Bar & Grill in Kihei (formerly Kono's on the Green) at 7pm. Tickets will be $20 at the door and $15 in advance at Maui AIDS Foundation (1935 Main St., Suite 101, Wailuku), Maui Comics & Collectibles (Queen Kaahumanu Center, 275 West Kaahumanu Ave., Kahului) and Sunsets Bar & Grill (470 Lipoa Parkway, Kihei). This is a 21+ event.
Inspired by HBO's "Game of Thrones," the night will feature a costume contest with prizes, a silent auction, throne photos, psychic readings, drink specials, community partner booths, and a fabulous night of dancing with DJs Kurt and Pash_Sean. Costumes are encouraged but not required for attendance.
The evening benefits Maui AIDS Foundation, which provides services for individuals living with HIV/AIDS, along with outreach, education and screening for local communities at risk for HIV and other sexually transmitted infections.
"What better way to celebrate our love for 'Game of Thrones' than a cosplay event on the day of the September equinox?" said Maui AIDS Foundation Executive Director Chasity Cadaoas. "We are excited to be putting together this inclusive event in lieu of our usual Halloween bash and can't wait to see how creative Maui will be. Start planning your best Jon Snow or Daenerys Targaryen drag now!"
If you are interested in volunteering for the event, please contact Shannon at info@mauiaids.org.
A 501(c)(3) nonprofit, Maui AIDS Foundation was established in 1986 as Maui County's only AIDS Service Organization. Today, along with Federally-funded case management services for individuals living with HIV/AIDS, the organization provides free and confidential testing for HIV, hepatitis C, syphilis, chlamydia, and gonorrhea by appointment at (808) 242-4900. Office hours are from 8:30am to 4:30pm, Monday to Friday.
Event hashtags: #MAFWinterIsComing #MAFgotGoT #MAFWinterOnMaui #WinterStayComing #WhereMyDragonsStay
For more information on Maui AIDS Foundation, follow us on social media @MauiAIDS.
CONTACT: events@mauiaids.org or (808) 242-4900