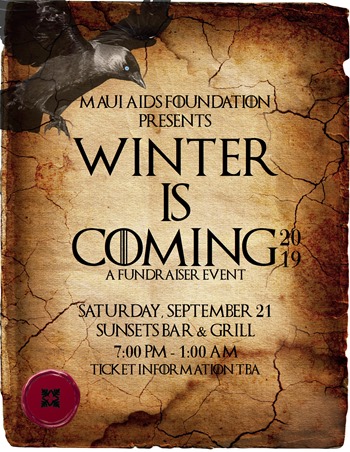 Wailuku, HI (May 20, 2019) — HBO's "Game of Thrones" may have had its series finale, but winter is still coming to Maui soon! In place of its annual Halloween party, this year Maui AIDS Foundation will host a "Winter Is Coming" cosplay fundraiser event on Saturday, September 21 at Sunsets Bar & Grill in Kihei (formerly Kono's on the Green) at 7pm. Mark your calendars!
More information, including ticket prices and DJs/performers, will be announced at a later date. In the meantime, start planning your best Jon Snow or Daenerys Targaryen drag now!
A 501(c)(3) nonprofit, Maui AIDS Foundation was established in 1986 as Maui County's only AIDS Service Organization. Today, along with Federally-funded case management services for individuals living with HIV/AIDS, the organization provides free and confidential testing for HIV, hepatitis C and syphilis by appointment at (808) 242-4900. Office hours are from 8:30am to 4:30pm, Monday to Friday.
For more information on Maui AIDS Foundation, please visit www.MauiAIDS.org.
CONTACT: events@mauiaids.org or (808) 242-4900